Latest and Upcoming Episodes
About The Frontyardigans
This wiki is about the YouTube show for people 6 to 17. The Frontyardigans is a video recorded terrific series. Uniqua the unique creature, Pablo the penguin, Tyrone the moose, Tasha the hippo and Austin the kangaroo have random adventures from budget cuts to outside shifts.
We're currently working on 42 articles about our favorite Internet cartoon.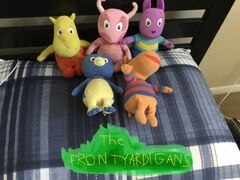 Dately Poll (November 19, 2017)
Which character do you want to see in the series?
Welcome to the Wiki
This is a wiki, a website that anyone, including you, can edit. Go ahead, try it out! Use the buttons below to create your first episode and character pages.
Create an article about an episode by typing the title below:

Create an article about a character by typing the title below:

Create an article about a whole season by typing the title below:
Pages created so far
The Frontyardigans is under a Standard YouTube license.
Userly Poll
Which user do you want to be the User of the Month?
New User Guide
If you are a new user, here are some tips.
Read the rules before contributing. Breaking them will result in a warning or a block.
Talk to an admin if you have any concerns or questions.
Search
Community content is available under
CC-BY-SA
unless otherwise noted.